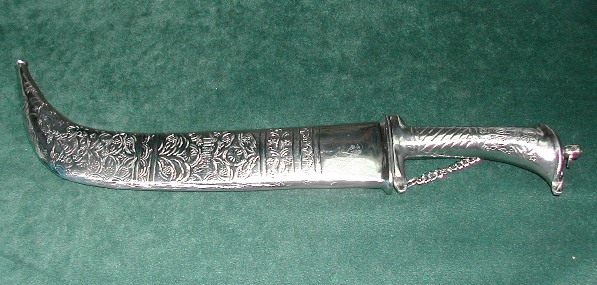 I wish to enquire about the content displayed on this page.
: 2002/131/101
: British Empire & Commonwealth
: Armament
: kirpan
: 'Kirpan'. Curved dagger / Sikh knife with chain. White metal blade with flared handle, probably on a wooden former, engraved with flowers, birds and Sikh symbol Khanda. Chain attached to the handle. Blade has a curved end and four channels in each side with some engraved lettering at the top. Scabbard is set on a wooden former. Both sides are engraved with bands of flowers, symbols, and the Khanda symbol. On back 'MS Best Quality'. Scabbard curved at bottom to match the blade.
: British Empire & Commonwealth Museum Collection
: Transferred from the British Empire and Commonwealth Museum, 2012